05.11.2008
love this damn show.  i was about to compare life to the show, entourage.  i wrote a couple paragraphs and thought it was kind of whack to compare life to a tv show.  not that it's bad to but it sets standards low to compare something of a fictional sense.  maybe i want to be more of a realist about things now but i still got dreams, dude.  but i have to say, entourage this season is pretty ridiculous.  girls are hot, ari is a badass at his job, and the entourage is doing what they always do.  ultimate respect to their friendship tho.  those are true friends.  i like that.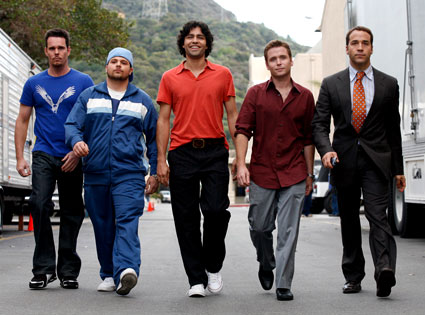 i just aspire to find a passion again.  i seriously don't see what i'm doing right now (as a career) as what i'm going to be going in the long run (but maybe i am).  i don't feel like i have a niche for it or that the people around me motivate me to be more.  yeah, on my previous project i had a boss who trusted me and actually believed that i'll be in his position one day and he'd be proud to work under me when that day comes.  when he said that, that was a big moment for me and from that day i put my chin up and held my head high after he said that.  i think that was one of my proudest moments in my life.  it's something to hear it from family but to hear it from a superior who you worked with 2 feet away from you 10 hours a day/7 days a week for 6 mo, that kinda means a lot.  not to mention how stressful that job was and what kind of bar it sets on the productivity you want to have at work.  but right now, i'm going numb at work.
i'm sort of going through another crossroad in life.  i'm trying to figure what it is that i want again.  sure, stability is good but it's boring.  i want stories i can tell people.  i'm tired of people asking me "how are you?" "how have things been?" and i have nothing to tell them.  it's the stories, the accomplishments, the relationships, the hardships, the victories that people care about.  people say not to care what other people think but if know one knew anything then how does anyone know it ever existed?  it's your own history that people can remember you by, right?
my thing is that i want to find things that i can tell my kids when they grow up.  i want those stories of what i did to get where i am.  learning to take chances without regret and coming out on top.  some story it would be to tell my kids "yeah i worked at this company for 35 years since a week after i graduated college."  and then?  "i retired?"  wow.
i think that's why traveling is my crutch.  you meet people, you see things, and you learn to be more open-minded about the world.  some people never leave where they come from and i'd love to live everywhere.  that may or may not happen but i won't ever give up that hope to do so.  i've seen what the world has to offer and it's exciting.  the strangers you meet who can become your closest friends, the one chick that makes you see things in a different light and everything all of a sudden makes sense, and the simplest connection between people that we forget about when we get used to our surroundings.
anyway, i'm just saying it's always gonna be in me to never be satisfied until i find whatever it is that is keeping me restless everyday.  i'm not content with being content.  it's not who i am.  if i ever just stop doing stuff, please knock me out of it.  cuz that's just not me.
anyway, cop the q-tip – the renaissance album.  it's pretty dope.
robin thick – something else – damn good album
rascal flatts – still feels good – so i like country music…and?
kanye west – november 25
common – december 9
jay-z – blueprint 3 – tba
david archuleta – november 11 – yeah, so what?  lemme see your itunes collection then.
lemme add my top 10 shows right now too.  been a while since i've blogged anything.
1 – eli stone
2 – little people, big world
3 – entourage
4 – the office
5 – heroes
6 – fringe
7 – how i met your mother
8 – private practice
9 – grey's anatomy
10 – 90210 (jailbait and jennie garth)
need more comedy sitcoms.  tv is too damn serious nowadays.  not enough funnies.  funnies never get old.
have a great november, kids.  i can't believe it's almost 2009 already.  life really does get fast after you get done with school.  it seems like there's never enough time…